Making a few bold predictions before the season really gets revved up is fun right? I mean what better way to leave yourself vulnerable to almost certain scrutiny down the stretch?

That said, if you basically have a crystal ball as I do, then making these sort of predictions is actually pretty safe. So SPOILER ALERT everyone! Below this paragraph contains information on what will almost certainly happen come next summer.
Presidents' Trophy Champions:
As I gaze into the Crystal Ball, who do I see winning the trophy that nobody really cares about, but actually is quite an amazing feat to win it? 

Well first I see a very spirited run from a California team....but not a Southern Californian team, a Bay Area team. That's right, I think the San Jose Sharks will jump out into the early lead and keep it for the majority of 2015. However, as we welcome 2016, I feel as though the New York Rangers will be once again in good shape to take their second regular season title in a row, BUT WAIT! Who is this other team I see coming into the picture at the end? Why it's another Californian team, however this team it's the Anaheim Ducks who will not only win their division, but will also take home the Presidents' Trophy with a two game buffer over the Rangers.

Champion: Anaheim Ducks
Eastern Conference Final: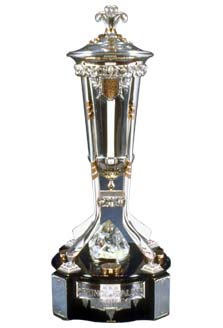 I could bore you all with an in depth look at who all will make the playoffs, but instead I will fast forward to each conference final and give you my predictions for those.
Time to stare into the Crystal Ball once again....

Ok now this is kind of weird....one of these teams is a little unexpected, but the Columbus Bluejackets have somehow found their way into the Eastern Conference Final against the New York Rangers!

The Bluejackets will definitely capture the hearts of many fans as being somewhat of an underdog story, but after a really good fight, the New York Rangers will be headed to the Stanley Cup Final.....but who will they face?
Outcome: Columbus Bluejackets Vs. New York Rangers, Rangers win in 6


Western Conference Champions:
Now lets shift gears to the West. Quite a few teams are showing up right now....I see the Blackhawks once again in the mix and maybe even an unexpected run by the Canucks, but when it comes to the final, it looks like it's all Golden State this season. The Ducks and the Sharks will be there in the end and although it looks close, Anaheim will finally get back to the Stanley Cup Final,  the question is....will they win in this time?
Outcome: Ducks and Sharks, Ducks win in 7
Stanley Cup Final:
Now for the one that everyone wants.Will it be the Ducks or the Rangers kissing the cup in the end?
Well according to the Crystal Ball, Alain Vigneault will finally win a Stanley Cup after a couple of trips that came up empty. The Ducks' depth will keep them in it, but King Henrik will have himself one hell of a playoffs and will be the deciding factor.
Outcome: Ducks Vs. Rangers, Rangers win in 6